Access insights and articles to help you navigate the world of education and investments.
Education and Investment
Cost of education in Australia in 2022
Is education expensive in Australia?
We all want the best possible education for our children. Regardless of whether it's a government, private or Catholic school education, as parents, we'd like to be in the position to choose the best option for our children. If it feels like the cost of education in Australia is on a steep upward trajectory, and having options is becoming less likely, you're not alone.

The numbers are in, and you haven't been imagining it. Education is getting more expensive.

The Futurity Investment Group Planning for Education Index* has been released and the findings will likely be of little surprise to most parents. Educating your children costs money and it's getting more and more expensive each year.

Key research findings

The Futurity Investment Group Planning for Education Index has revealed a significant shift in education costs. Key findings include:
Parents have worn the financial brunt of students
learning from home
.
But it's not all doom and gloom. There are ways you can plan, and actions you can take, to ensure your children get the education you want.
Cost of schooling in Australia
Generally, the cost of schooling in Australia is climbing. And the reality is all education costs money, regardless of the type of school. Whether it be government, private or Catholic the cost of educating your children adds up.
It will come as little surprise to most parents that COVID-19 and the associated at-home learning has had a real financial impact on families.
The research found 33% of parents experienced either 'a lot' or 'some' financial pressure as a result of the pandemic, with 36% taking annual leave or unpaid leave to help homeschool a child.
One in three (31%) parents who took annual leave or unpaid leave to help homeschool a child during the COVID-19 pandemic earned substantially less than the previous year, with 51% of those reporting their earnings fell by more than $10,000.
Future of education in Australia
Off the back of the
Future of Education report
by Mark McCrindle, all indicators point to hybrid learning being the way of the future. The report identified seven in ten students (70%) describe their ideal learning situation as a hybrid one, being a combination of time spent learning from home as well as at school.
As schools and the education system in Australia adjust to a different future, it becomes more important to be in a position to have choice.
Planning financially for your child's future education
will provide you with the options to navigate how education will look in the coming years.
How much does school cost in Australia?
Where you live and educate your child in Australia will influence how much it will cost. Overall, cities are more expensive than regional or remote areas.
Sydney is home to Australia's most expensive Government and Independent education. Meanwhile,
Brisbane has the nation's most expensive Catholic education
.
When looking at the total estimated cost of education over 13 years of schooling in Australia for a child starting in 2022, the numbers can be staggering. The below table compares the cost in major cities to regional and remote areas.**

Education costs include things such as:
school fees

additional tuition

extracurricular activities

clothing

travel

software and electronic devices
Especially when it comes to public education, the add on costs are often not thought about or planned for. The Futurity Investment Group Planning for Education Index considers all costs, providing an accurate guide to what parents should expect.

Average cost of education in Australia

When looking at a breakdown of the average costs in each state, the costs for different types of education vary considerably.

For example, Sydney parents who send a child to an independent school will spend $459,236 over 13 years. That's 31% or $109,832 more than the national average ($349,404). Whereas parents in Perth should expect to pay ($215,554), making it Australia's most affordable city for an Independent education.

Refer to your state in the table below for the Total estimated cost of education for a child starting school in 2022**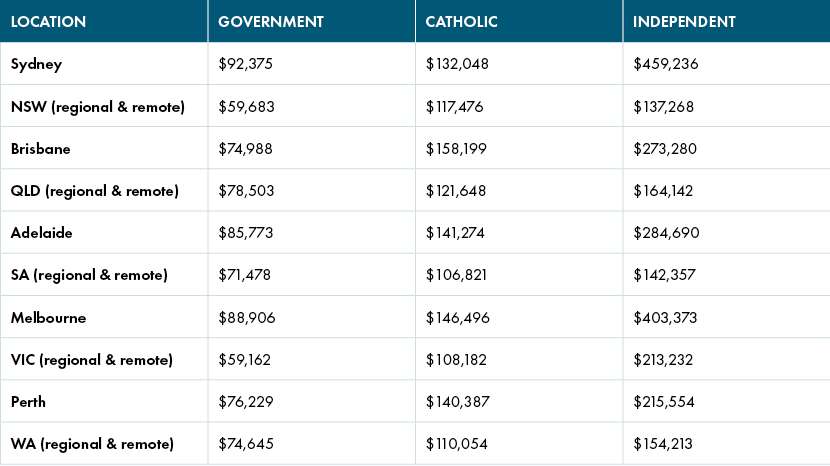 Planning for education costs

Understanding how much money you'll be up for over the course of your children's schooling years is the first step.

Using Futurity's Cost of Education calculator will help you understand how much your children's education will cost. It provides realistic figures based on research to help you get a true estimate.

Plus it has the flexibility for you to tailor your responses based on your child's stage of schooling, school type and their likely expenses.

Although the figure can be a little overwhelming it's important to remember, knowledge is power. By looking at the big picture, you'll be better placed to put strategies in place so you'll have the financial freedom to choose the education you want for your children.

Real solutions for education costs

As one of the biggest investments you are likely to make, it should be possible to educate them at the school of your choice.

Therefore, understanding and preparing for the cost of education in Australia can make a world of difference in terms of the opportunities you can offer your children.

Consider an education loan to help with fees and expenses or start saving today with EdSaver - designed to help you save and tax-effectively accumulate the money you need for education expenses.

Get in touch with Futurity Investment Group to find out the options available. Solutions help you confidently navigate the changing landscape of education in Australia and be financially prepared to give your children the best options.
* The Futurity Investment Group Planning for Education Index is based on data sourced from a survey of 1,800 members on ancillary costs conducted by Futurity Investment Group and public information on school fees, including the My School website.
The COVID-19 research is based on data sourced from a survey of 1,300 members in December 2021 on the financial impacts of educating children at home during the COVID-19 pandemic. The survey was conducted by Futurity Investment Group.
For an explanation of all methodology and assumptions, please refer to the Futurity Investment Group website.
**Estimates of future long-term education costs projected over a 13-year period are provided as a guide only. Being estimates, Futurity cannot guarantee they will represent the actual cost of education for a particular child or school sector or particular period.